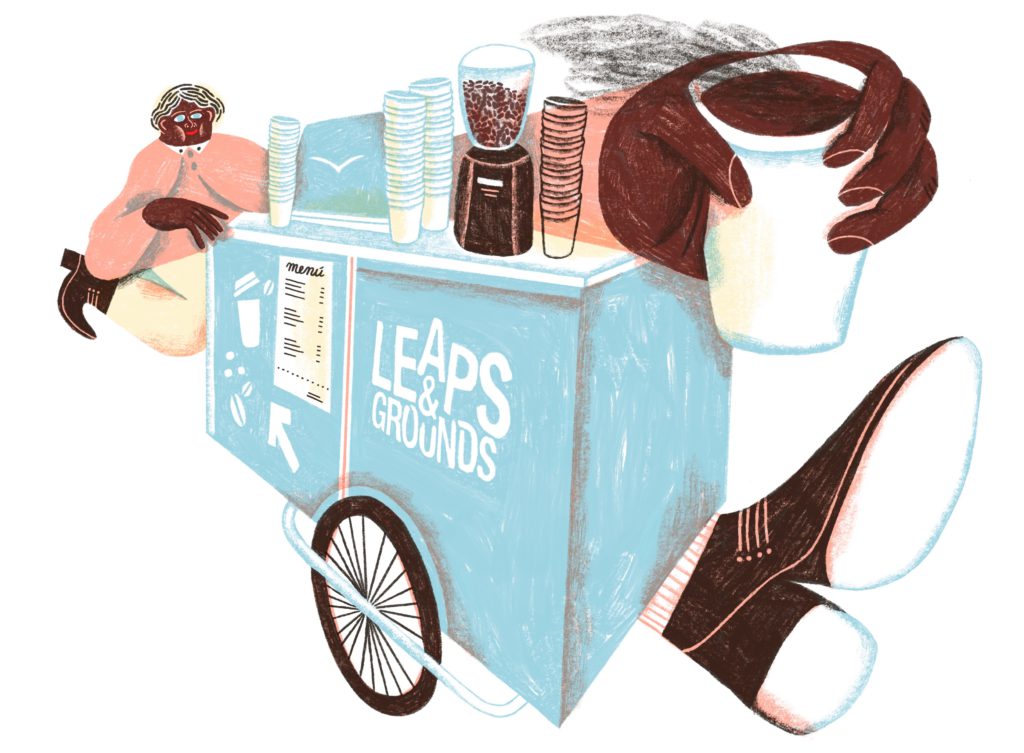 Description
Leaps and Grounds is a coffee social enterprise that aims to break the barriers to integration for women refugees in the UK. It provides speciality barista training,  paid work experience and 1-2-1 employability mentorship to support women refugees into long term employment.
Context
Employment has been identified as the most important factors for refugee integration as it facilitates economic and social participation in society, it provides self esteem, a connection to the community and provides an opportunity to learn and improve English. However, refugee women have one of the lowest rates of employment across all UK groups and this rate is continuing to fall.  Existing employability programs have not been working.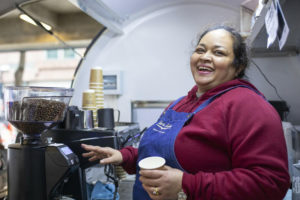 Leaps and grounds aims to provide that first job to refugee women with skill-based training and employability mentorship to provide participants with improved confidence, English language skills and an understanding of the UK job market to support them into long term employment and begin to create their dream careers.
Technical details & Operations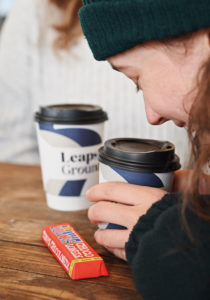 Leaps and grounds works with organisations to place trainees into long term employment after the program and offers opportunities to return as a supervisor barista.

Leaps and Grounds works with a network of over 30 refugee organisations who refer refugee women into the program.

These women receive barista training through Leaps and Ground's specialty coffee partner, Caravan Coffee Roasters and are onboarded as trainee baristas.

The program provides them with three months paid work experience at a Leaps and Grounds coffee cart in London where they work alongside a supervisor barista.

The supervisor baristas provide on the job training, guidance and support to the trainees, helping with coffee skills, customer service and improving English. The supervisor baristas are all women who have graduated from the program themselves, creating a safe, supportive and empowering environment for the trainee baristas.

The trainees are also paired with a mentor for 1-2-1 employability mentoring to support their long term career goals.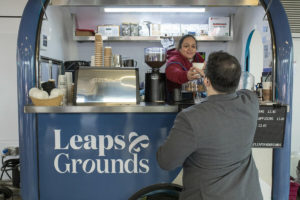 Deployment & Impact
Leaps and Grounds has been running since 2022, and has provided training and work experience for over 30 women.
100% feel more hopeful about their future

80% have increased their confidence

80% have increased their English language skills

60% feel they have a good understanding of the UK job market

>50% have found employment and ongoing opportunities within 6 months of the program.
Feedback:
A – " I think this program is amazing! This job has made such a difference to my life – I feel independent, and my confidence has improved."
F– "Working here is one of the best things in my life… it has helped me a lot with my confidence, speaking English, making coffee… everything in my life is getting better."
M; "I was engaged the whole day and came home feeling well. I was not so isolated during my time on the programme and people were nice and helpful. I appreciate the work." The "work experience gave me everything I know about coffee, not just training."
Ar – "I loved it, it felt like I was in paradise and not at work, it was like my second home. When you keep your mind busy it heals you, it was the best time of my life in the UK (ten years), it felt spiritual". – 12/07/23
Hannan– mentor : "The way that they do the programme provides so much dignity to the women they serve. It's a great initiative."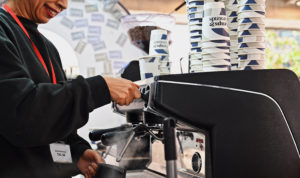 Instagram: Leapsandgroundscoffee