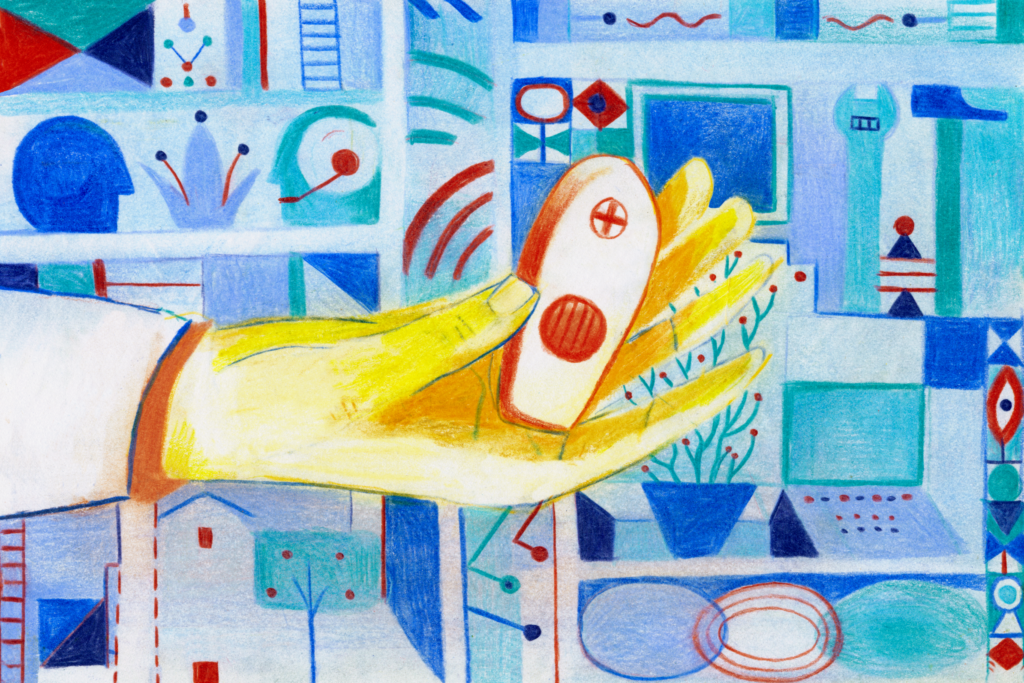 Description
The Mobile Telecare (TAM) project aims to provide autonomy and security to elderly and disabled people inside and outside their homes through a mobile app or a smartwatch.
Context
Telecare is a 24/7 service based on communications technology that enables elderly and disabled people to be assisted by professionals in the case of any health or social emergency.
Developed by the Spanish Red Cross in collaboration with the Vodafone Foundation and the Tecnologías Sociales Foundation (TECSOS),  this service is strategic and key to ensuring them   remain at home, promoting their autonomy, particularly those who live alone, as well as supporting family caregivers.
Since its development in 2005, the service has evolved in terms of accessibility and inclusivity, ensuring it can be used by anyone regardless of their situation. 
Indeed, the first group using telecare were the elderly from their own homes. Thanks to the advances in mobile telephony, the service was expanded inside and outside the homes and started to be used by victims of gender violence. The terminal model used in telecare changed to include women in vulnerable situations, evolving from custom devices to standard mobile terminals: discreet, easy to repair or replace.
This great evolution at a technological level was implemented in 2014. Historically, TAM care was based on auditory or oral communication, and thanks to the innovations in Information and Communication Technologies (ICTs), in 2016 the functionalities could be expanded, reaching deaf, blind, mobility-impaired people and people encountering understanding and manipulation difficulties. Adaptations are currently being made to make the service available to deafblind people.
Technical details & Operations
Mobile Telecare is an app available on  mobile phones and smartwatches that enables users to be in touch with the Red Cross Alarm Service Centers at any time – as long as they have coverage, in any place that can be located by GPS system or over the Vodafone network.
Users can activate an alarm by clicking on a button on their device. The Red Cross service centers receive the emergency call and assess the nature of the emergency situation. Service operators then try to identify the range of resources people can call upon in their close environment, such as relatives or neighbours. If there are no options, or in case of an emergency situation, the Red Cross service centers call on local emergency services (sometimes also operated by the Spanish Cross).
The features of the app are optimised for people with disabilities, with specific communication tools such as acoustic or vibrating notifications, colour contracts and even alternative communication through pictogrammes. It is compatible with common support products for deaf, blind and disabled people.
Deployment & Impact
Several actors are involved in the implementation of the Mobile Telecare service, such as the Alarm Service Centers across their infrastructure, information systems team, application development teams, home equipment installation staff and management teams (social workers, volunteers, etc.). The roll out of this service has led to a considerable improvement in the scope and coverage of the needs of many people, such as those without a fixed telephone line, living in remote rural areas, etc. 
Mobile Telecare is currently used by 3,161 people in Spain. Complementary services have been added, such as holding the house keys of isolated residents and a Mobile Emergency Unit for specific cases in some parts of the territory.