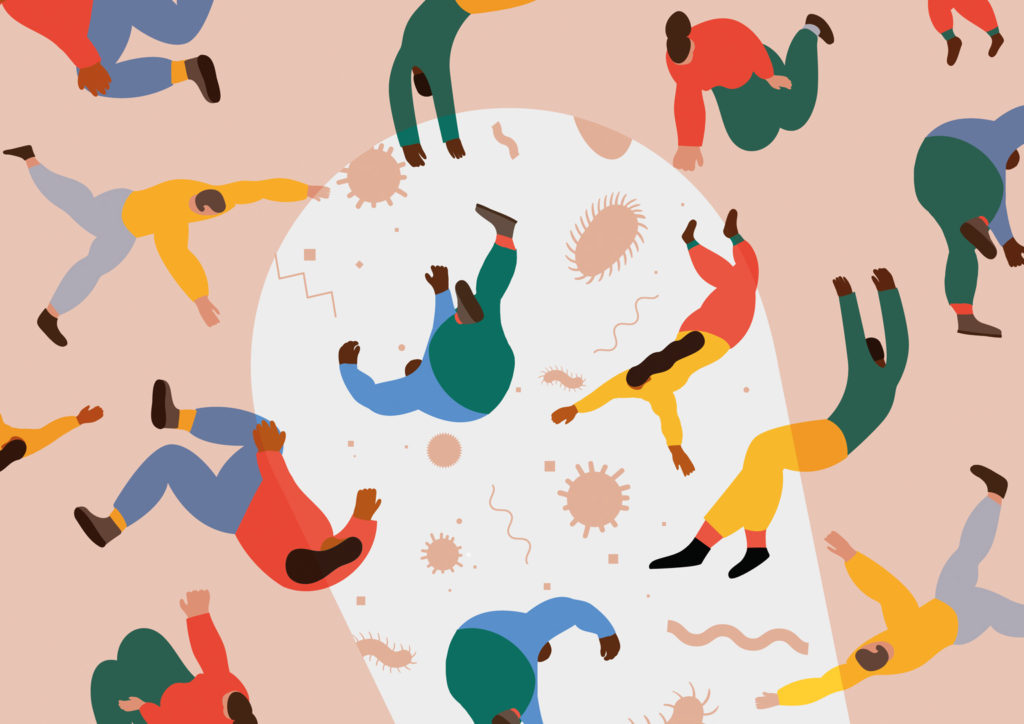 Description
OmniVis makes a handheld plug-and-play device for detecting infectious diseases, in under 30 minutes, anywhere in the world. Specifically, with our hardware device, disposable test kit, and innovative detection methods, OmniVis is developing a fully integrated geo-mapping platform for a rapid, portable, diagnostic tool with our own proprietary algorithms to detect pathogens in fluid samples. We've identified numerous diseases that we can detect with our technology, including cholera in water, HIV in blood, SARS-CoV-2 in saliva and nasal swabs, and malaria in blood.
Context
Current infectious disease detection platforms are time intensive, costly, and imprecise, exacerbating wide scale disease outbreaks worldwide. Cholera causes approximately 5M cases across the globe each year and wastes $2 billion annually in treatments and lost productivity that could be avoidable through early detection.
OmniVis' handheld hardware device and single-use disposable test kit reduces the detection process of cholera in environmental water samples from 5 days down to 30 minutes, more accurately and affordably than other solutions. Additionally, OmniVis' data gathering & reporting tools provide insights over disease hotspots, enabling earlier warning before wide scale outbreaks occur. OmniVis will focus on selling to humanitarian aid organizations and water testing laboratories in emerging markets who are currently spending $1.6B using sub-par test kits. Our advantages are speed, portability, ease-of-use, and potential for expansion.
The OmniVis solution provides value to our customers with solutions that are:
Rapid: result within 30 minutes of data collection, which is 240x faster than the gold-standard

Accurate: accuracy of 94.4% at environmentally relevant bacterial concentrations in water

Cost effective: device costs $1,000 for the hardware (1/2 start-up cost) and $10 per test kit (1/10th the cost/test for cholera)

Scalable: allows for detection of V. cholerae through viscosity measurements and has potential for use in other pathogen diagnostics (S. aureus, K. pneumoniae, E. coli, malaria, HIV viral load, and SARS-CoV-2)

Portable: the device is easily maneuverable and can fit in someone's hand

Automated: removes the training needed to interpret results

Location specific: automates record keeping with real-time data aggregation for surveillance
Technical details & Operations
Though primarily product focused, OmniVis is both a product and service company. Their initial product is a mobile-based cholera detection platform that combines (1) a handheld hardware platform that serves as a mobile laboratory, (2) a disposable test kit used to collect water samples, and (3) software in the form of a mobile phone application.
OmniVis uses RT-LAMP for amplifying the DNA or RNA of a sample of interest and particle diffusometry (PD) as a novel biosensor for sensitive detection of pathogens. We have two granted patents on this novel measurement technique, as well as 8 scientific peer-reviewed publications. The OmniVis device is equipped with an easy-to-use application that guides the user through each step of the testing process. Additionally, data is offloaded to a secure cloud portal to automate data logging and monitor outbreak data in near real-time.
The business model is similar to that of a razor-razorblade model with the hardware testing platform as the razor and disposable test chip as the razorblade. This strategy allows the company to generate reliable and recurring income while locking customers onto the platform, building long-term relationships. Upon product commercialization, the company will provide software as a service (SaaS) to their customers, offering data visualization and reporting tools for disease outbreaks. As the first company to market a mobile water testing solution for cholera that also distributes results and data digitally, they expect to establish themselves as the premier mobile cholera detection platform globally. To ensure their success, they have researched the market opportunity and market challenges extensively, as well as establishing partnerships that will best support them in successful deployment and integration into their target regions.
Deployment & Impact
Based on previous experiences and 200 + customer discovery calls, they have learned that there is a significant need for a rapid detection solution in (1) emergency situations as well as (2) cholera endemic regions.
(1) Currently, it is very difficult to rapidly understand which water sources are contaminated with V. cholerae in the wake of natural disasters like flooding, hurricanes, earthquakes, etc. The OmniVis solution would allow NGOs and local governments to quickly detect where cholera outbreaks are coming from and treat the water source immediately with chlorine. It prevents from having to chlorinate all water sources, which uses an excess of resources, or not taking enough action, leading to large outbreaks.
(2) In endemic regions, surveillance and monitoring is crucial. Due to the seasonality of the cholera pathogen, it's important to better understand when and where cholera outbreaks are occuring. Current pain points of cholera surveillance in endemic regions include information being lost before it is disseminated to interested parties, inefficiency of hand-written record keeping, logistical hurdles of sending water samples to be tested off-site, and more. In many conflict areas, international Humanitarian Aid employees are not allowed to collect water samples or enter certain areas. Due to the ease of use of the OmniVis solution, we are enabling individuals to collect water, and learn the results right then and there.
The OmniVis solution prevents outbreaks from happening, which reduces the spread of cholera, decreases the annual number of cholera cases (currently ~5 million cholera cases are detected each year), and impacts the number of individuals in need of cholera treatment. When infected with cholera, each patient requires 6- 7 liters of ringer's lactate to treat the disease. Providing this treatment to remote areas takes up an enormous amount of space and weight. Logistics alone require a budget of $2 per kg of ringer's lactate.
Every $5 invested in OmniVis prevents 1 case of cholera, assuming 1 test kits (at $10) can detect cholera in a water source that affects a single family, 30 minutes of labor, transportation, and that each hardware unit is used to test 80 water sites per month. The OmniVis solution saves $1,340 in costs for cholera treatment and lost productivity hours.