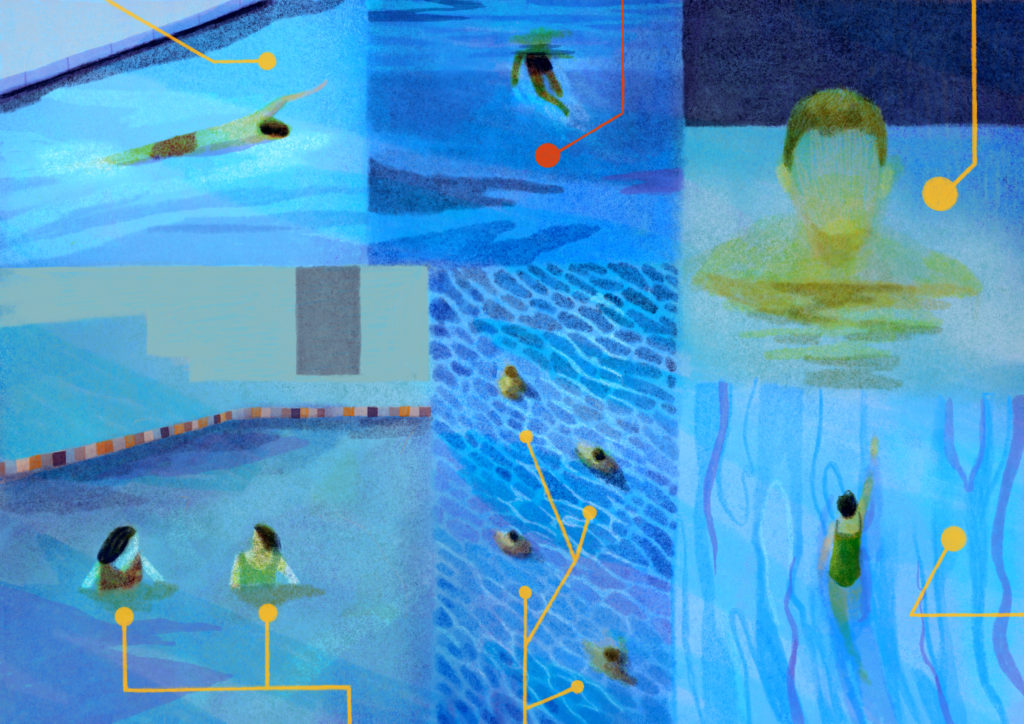 Description
Lifeguard VR is a virtual reality app developed for the Meta Quest 2 VR headset.  This training simulation will help lifeguards save lives by reinforcing cognitive skills used to identify drowning victims taught in the classroom through immersive training scenarios. 
Context
The American Red Cross offers lifeguard training courses year-round, working with local partners to provide science-based training that combines hands-on, classroom, and online instruction for lifeguards working in pool and waterfront settings. A large component of lifeguarding involves cognitive skills such as surveillance and visual scanning to identify drowning victims. However, it is challenging to simulate the distractions and environmental factors necessary for this training in a classroom environment. The current solutions for lifeguard surveillance training consist of pre-recorded training scenario videos and role-playing through mock rescue scenarios. However, training videos fail to help trainees build muscle memory, and clearing out a pool to conduct mock scenarios requires a lot of resources and planning and risk putting participants in danger.
These solutions make it challenging to provide lifeguards with accessible, realistic training environments to better prepare them for the life-threatening situations they will face on the lifeguard stand.  Lifeguard VR offers a solution that helps resolve this challenge.  Co-developed with the nation's best lifeguarding surveillance experts from American Red Cross Training Services, Lifeguard VR delivers accessible, realistic training scenarios for lifeguards to practise surveillance skills taught in the classroom and build muscle memory that translates directly to the lifeguard stand. 
Technical details & Operations
Lifeguard VR is a training simulation for the Meta Quest 2 VR headset designed to give lifeguards the opportunity to practice skills used to identify drowning victims.  In this experience, lifeguard trainees are tasked with identifying the drowning victim as quickly as possible in unique scenarios across a collection of real-world water environments. In each scenario, the trainee will be transported to the top of a lifeguard stand and be responsible for scanning over the people within their assigned zone. 
Within these three-minute scenarios, the trainee will need to identify the drowning victim as quickly as possible and use the VR controllers to blow their virtual lifeguard whistle and then select the drowning victim.  Scores are calculated from performance metrics evaluating the trainees' scanning abilities and identification speed. These metrics are automatically captured in each scenario and uploaded to an accompanying web admin panel. Lifeguard managers can review and track progress of their trainees as they progress through the scenarios. Trainees are encouraged to compete to see who will get the highest score and sit at the top of the leaderboard for their organisation.  Lifeguard trainers will also be able to create custom training modules by selecting scenarios to mirror and emphasise the specific skills and lessons that are being taught in the classroom.
Deployment & Impact
Leveraging virtual reality allows our solution to democratise access to training and better prepare more lifeguards to face life-threatening situations in the real world. Both new and experienced lifeguards will be better equipped to save more lives as a result of this increased access to effective training.  Tailored towards the younger lifeguard demographic, Lifeguard VR offers a new educational experience that will keep lifeguard trainees engaged in the curriculum and encourage more lifeguards to join. Therefore, the recent nationwide lifeguarding shortage will benefit from this new engaging addition to the classroom. Lifeguard VR will be free to download on any Meta Quest device with access to a limited number of training scenarios. Additional scenarios, pool/waterfront environments, and performance tracking features will be available for purchase through American Red Cross Training Services. Lifeguard VR is currently being tested with a few local lifeguarding facilities to test the compatibility of the VR training experience with current lifeguard training curriculum.  Feedback is being collected to iterate on the current experience in efforts to create the most realistic and engaging experience for the trainees. The product will be going through an extended live pilot test very soon till it goes live nationwide in 2023.