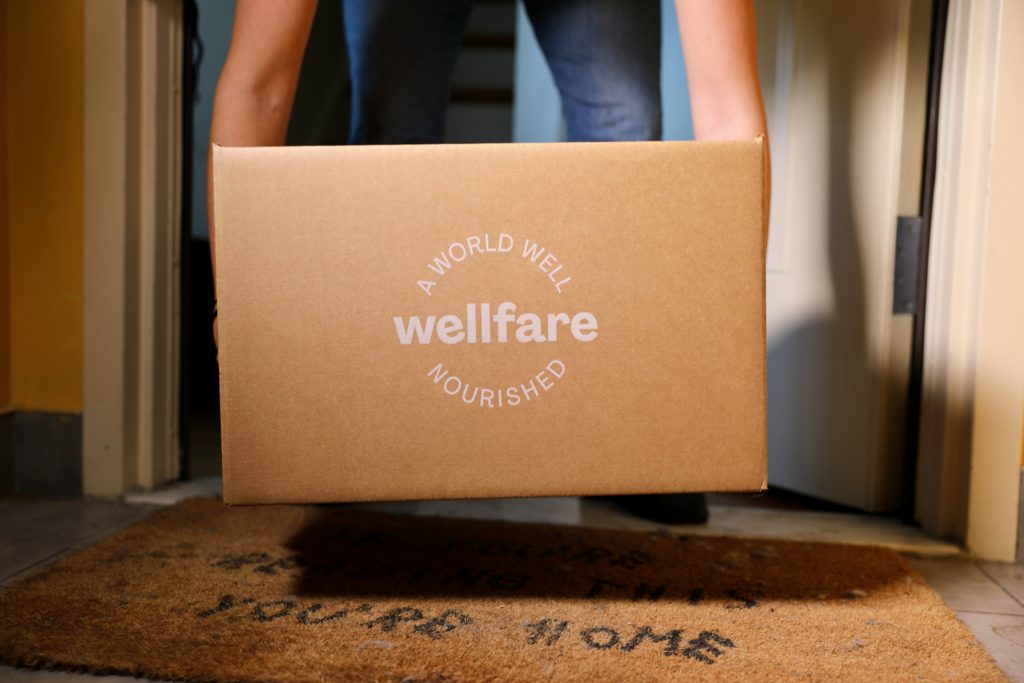 Description
Wellfare is a nonprofit organization delivering nourishment to the food-insecure in New York City. Every two weeks, they deliver a box of donated shelf-stable and healthy snacks, drinks and pantry goods directly to the doors of qualifying households for free.
Context
A high proportion of NYC's food insecure reside in public housing communities managed by the New York City Housing Authority (NYCHA). Across the city, there are over 300 NYCHA developments with 170,000+ households, home to about 700,000 individuals. Often, these households rely on a combination of SNAP benefits (e.g. a government-subsidized nutritional assistance program), food pantries, mutual aid organizations, corner stores and low-cost grocers to get the bare necessities on the table. These options are often time-consuming, unreliable and offer foods that are low in nutritional value.
Wellfare identified Brooklyn's 11206 zip code, one of the country's densest public housing communities, as an ideal area to launch their direct-to-door pantry service. Across the zip code, there are 11 developments, home to 20,500 residents in 7,500 households.
Through community market research and conversations with tenant associations, nonprofit leaders, small businesses and government officials, they recognized that affordable healthy packaged goods were often unavailable to low-income households within the 11206 zip code. As other organizations focus on delivering perishables such as dairy, protein and fruit, no one was focused on healthy single-serve snacks, beverages and pantry goods.
Wellfare introduced itself to 11206 with a signup event where members of the community could learn more about the service and receive a tote filled with samples. In addition to the signup event, they place posters in the lobbies of public housing buildings in the area encouraging interested households to call their customer team to learn more and signup. Fueled additionally by word of mouth, they now serve 1,000 households in the neighborhood every two weeks.
Technical details & Operations
Wellfare handles product procurement & logistics end-to-end, sourcing, accepting and storing donated products, fulfilling orders and delivering direct-to-door via couriers & volunteers. Working with 300+ better-for-you brands (e.g. Banza, Vital Proteins, Hu and OWYN), we're able to deliver much needed food directly to the doors of those in need while also introducing health-conscious alternatives (e.g. functional seltzers versus syrupy sodas, protein bars versus chocolate bars, berry immunity gummies versus artificially flavored candies etc.) 
People learn about Wellfare in one of three ways. Either they spot Wellfare's sign-up posters in their buildings' lobbies, they talk to one of Wellfare's volunteers on Saturdays as they make their deliveries throughout the neighborhood or simply through word of mouth. Those interested in the service either go online & submit an inquiry form or call Wellfare's 24-hr number with their name, address & phone number. One of Wellfare's volunteers call them back to onboard qualifying households within 24-48 hours. 
Their product procurement is itself informed by what they've learned during check-ins. When Wellfare onboards each applicant individually, they learn what their nutritional needs are, if & how they are currently being met. Given, for instance, the majority of their subscribers are watching their blood sugar levels & are reducing their caffeine intake, they know to procure donations of various tea-infused seltzers & manuka-honey immunity-boosting gummies. 
Wellfare takes every opportunity they have to either learn about their needs or provide for them. This is exemplified in their regular phone check-ins with subscribers, that inform us as to how the goods they're delivering are affecting their health & their livelihoods — the time, money & energy saved when healthy food is brought directly to their doors. Logging every interaction with their subscribers means Wellfare is building a rich database that goes on to advise their procurement, program curation & collateral creation.
As far as logistics, they receive in-kind donations on an ongoing basis at their warehouse in Long Island City, Queens. Working with manufacturers & distributors, they become a home for partners' excess, short-coded or mislabeled products. Wellfare aims to create a national destination for in-kind donations, turning their product partners into zero waste operators. In addition to product donations, their brand partners (e.g. La Colombe, Wedderspoon, Four Sigmatic) are encouraged to engage their employees in volunteer efforts, fulfilling & delivering boxes to subscribers. 
Based on inventory & subscriber feedback, Wellfare curates what goes into each delivery cycle, fulfilling & delivering boxes to their 1,000 subscribers with the help of their volunteer corps. In addition to healthy products, they make sure to include educational collateral in every box, sharing interesting & useful nutritional facts about the products included.
Deployment & Impact
Wellfare launched their service in February 2021. Currently it serves 1,000 households in NYC. Their plan is to increase the overall number of households they deliver to 1,300 by the end of 2021. As of today, many of their subscribers are forced to go to on average four grocery stores & a food pantry to get the food they need for their families. The goods Wellfare is delivering are often too expensive to purchase if not simply unavailable at the stores they frequent. By introducing a healthier alternative to the nutritionally-low foods low-income households have forcibly become accustomed to & pairing them with nutritional education, Wellfare is creating reliable access to healthier eating. The impact Wellfare would like to see is if their subscribers find themselves opting for more nutritionally-dense food & drinks in their daily life, deliveries are putting more energy & more time in their hands to do the things that bring them joy, income & inspiration.
 Subscribers are telling Wellfare that their deliveries already help create a sense of reliability & confidence around food in an otherwise food-insecure environment. Receiving healthier, more nutrient-dense foods consistently, they are able to plan their grocery spends with more certainty, rather than relying on one-off purchases & promotional deals in supermarkets & corner stores. By introducing subscribers to otherwise inaccessible products & unfamiliar yet nutritious ingredients, they will be creating the foundations of a more health-conscious consumer, whose time and needs will consistently be listened to, respected & met. Wellfare continues to track their satisfaction with the products they deliver, the educational content they produce & the sense of strength & savings they intend to provide them with & how they intend to use it.
Creating holistic food security for low-income households is a long-term objective, one that they've begun to address with their box of donated shelf-stable food items. Today, they apply their learning about subscribers' nutritional needs to procure healthier alternatives. Our long-term objective is to develop a SNAP-eligible direct-to-door grocery delivery service, where produce & cold-chain goods (e.g. dairy, meats, bread) will be available for purchase at a subsidized cost & added to their existing box order. Wellfare aims to be a full-scale replacement to both the traditional food pantry system & low-cost grocers, bringing the direct-to-door grocery service a higher income can afford to finally low-income households. As of now, many low-income communities are defined by what they lack. By creating reliable & affordable access to healthier eating, Wellfare is empowering these same communities to define themselves by what they have & aspire to.