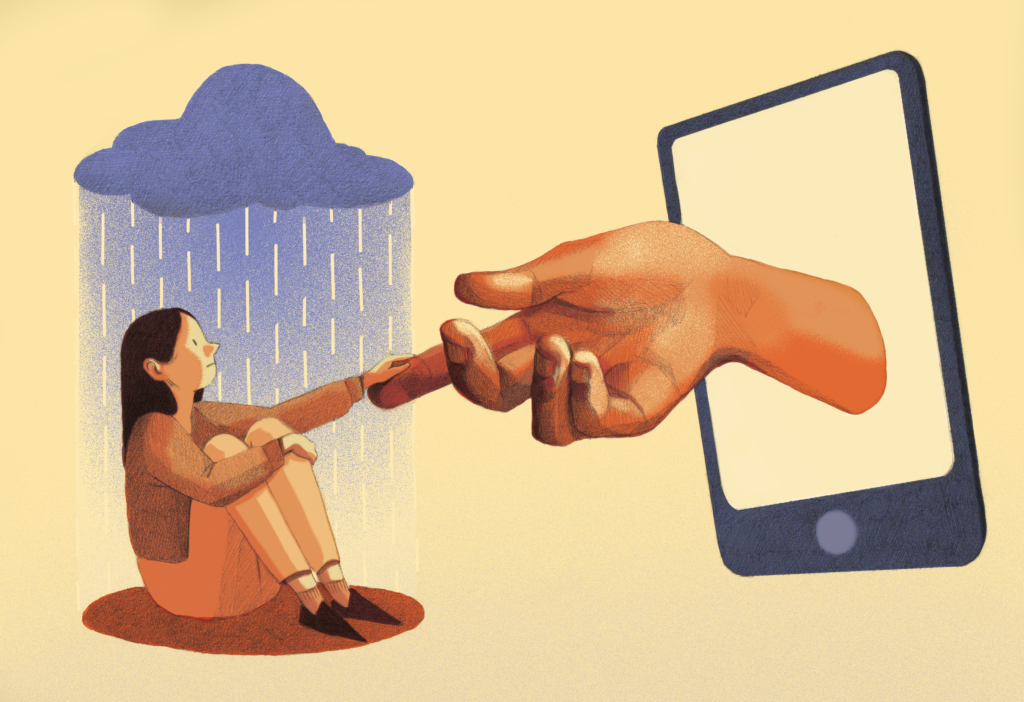 Description
SearchingHelp is an application for suicide prevention. Its operation is based on a listening system that acts as a "detector" of increased risk of suicidal behaviour, from the devices on which patients carry out their usual digital activity. SearchingHelp monitors digital activity and records abnormal online behaviour of all kinds. Statistics are produced for each patient to help their doctor adjust medications, visits and consultations.
Context
Every day 10 people commit suicide in Spain. And every year 8,000 attempt suicide, some of whom suffer lifelong consequences. A silent enemy that is one of the main public health problems. In 2017, shocked by its magnitude, we asked ourselves a question; can we do something about it? 
Investigating, we discovered that, in many cases, suicide attempts are preceded by certain behavioural changes. This led us to think that discovering these behavioural changes in time would help to prevent many suicide attempts, but this would require accompanying the person throughout the day, something that was impossible at the time. 
But technology is advancing and we are advancing with it. Everything we search for, share, buy, what we feel, everything we express with emojis, hashtags… our identity, in short, our voice to the world, is contained in a small device that we always carry in our pocket. It was then that we wondered whether it would be possible to detect signs of a suicide attempt using all that digital information. 
In 2020, 3,941 people committed suicide in Spain, 270 more than in the previous year, which means that every day 11 people committed suicide in our country, representing a suicide rate of 8.31 per 100,000 inhabitants. 
According to the Observatory of Suicide in Spain, suicide deaths are already double those of traffic accidents, 13 times those of homicides and 67 times those of gender violence. Similarly, suicide has become the leading cause of death among young Spaniards between the ages of 15 and 29, something that has never happened in history as long as statistics have been available.
The impact of these data on our society is raising public awareness of the enormous problem which, in addition to being a growing challenge for our health system due to its high prevalence, represents a family, human and social drama of the first magnitude.
The public debate on suicide and the measures to be implemented for its prevention is taking up more and more space in the media and in the political debate, and the public authorities and institutions, from the General State Administration to the Autonomous Communities, are redoubling their efforts by implementing specific plans and strategies to try to tackle and prevent a phenomenon which, far from diminishing, is a growing problem every year.
Technical details & Operations
The solution includes a mobile application, which is on the patient's device, and a management portal for the medical professional to evaluate and monitor the collected activity. Searching Help Suicide works on the basis of a dictionary of terms and a catalogue of its own behavioural patterns.  It analyses searches and behaviour on the Internet on the patient's terminal, detects anomalous behaviour that could be correlated with self-injurious behaviour and triggers an alarm, which is immediately sent to the doctor's mobile phone. 
The information analysis system according to the patient's pathology is based on Microsoft .net and Cloud Azure technology, which performs syntactic and semantic analysis of the information in two ways: 
By means of Machine Learning (own trained models) 

Rule engines (previously established). 
This generates a series of clinical alerts in various areas (such as suicide prevention) useful for the clinician in the clinical interview. 
Modules are included with the possibility of self-assessments/questionnaires by the patient and control of clinical trials by the clinician, as well as intelligent reports in real time that help to focus attention on the patients with the most clinically relevant alerts. 
The system pays special attention to data protection, anonymity and patient privacy. Encryption, secure communication and access control techniques are used to guarantee these areas. 
The SearchingHelp tool offers collective statistics for research and improvement, with the SearchingHelp tool itself being the best aid for further development. Its working philosophy is: We Listen – We Detect – We Learn. 
Deployment & Impact
The SearchingHelp project is in its second phase of the clinical trial at Hospital 12 de Octubre.
Its start is imminent and aims to demonstrate the efficacy of the application. We will use a sample of 1186 patients in psychiatric treatment for a previous suicide attempt. 
This project includes an adult and adolescent population and the sample of patients is the necessary to demonstrate that the use of this APP provides significant advances. A total of 593 patients will be treated in which the therapist will have the alerts provided by the APP and another 593 in which the therapist will only have the information provided by the patient in each interview. 
What are we going to demonstrate with the trial? 
Target 1:

To study whether the use of the tool "Serching help for preventing suicide" decreases the risk of repeated suicide attempts during the three months of treatment (period 0-3 months crisis intervention) and/or during the first three months of post-intervention follow-up (period 3-6 months). 

Target 2:

To study whether the data provided by the computer tool (Serching help for preventing suicide) serve to:
a) improve the assessment of suicide risk during treatment; 

b) detect alarms that allow therapists to optimise their intervention. 
Target 3

: To determine the degree of satisfaction of patients and therapists with the computer tool. 
This project was one of the winners of the Spanish Red Cross Humanitarian Technology Awards 2021, specifically in the IMPULSE category, which rewards the potential of the solution with regard to its scalability within the target audience and its capacity for extension to other areas and groups.